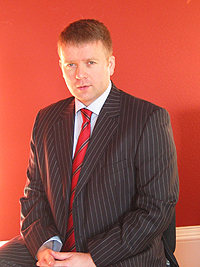 abroadbean is an independent vehicle dealer based in Edinburgh with a UK wide customer base selling both UK and EU supplied cars.
Neil Hutton, abroadbean's founder, entered the motor industry over 18 years ago as a new vehicle buyer for a national vehicle leasing company, having swapped the world of banking for the glamour of motor cars.
abroadbean was formed in the late 1990s to capitalise on the considerable pricing disparity that had developed between cars sourced from mainland Europe and those purchased in the UK.
Responding to market changes, abroadbean has now switched its emphasis to primarily sourcing UK cars and yet still offering great value and an enviable service. In some cases abroadbean continues to source imports on some of the more prestigious cars to reduce lead times.
abroadbean has chosen not to have a run of the mill name, but more fundamentally Neil Hutton determined from day one that every abroadbean customer would not receive a run of the mill service. This is borne out by our repeat customers, customer referrals and in the client testimonials. Our long list of clients ranges from private individuals, company directors, independent motor traders and supermarkets through to national franchised motor groups.
I look forward to the opportunity to provide that same high level of service to you.
&nbsp&nbsp&nbsp&nbsp&nbsp&nbsp&nbsp&nbsp&nbsp&nbsp&nbsp&nbsp&nbsp&nbsp&nbsp&nbsp&nbsp&nbsp&nbsp&nbsp&nbsp&nbsp&nbsp&nbsp&nbsp&nbsp&nbsp&nbsp&nbsp&nbsp&nbsp&nbsp&nbsp&nbsp&nbsp&nbsp&nbsp&nbsp&nbsp&nbsp&nbsp&nbsp&nbsp&nbsp&nbsp&nbsp&nbsp&nbsp&nbsp&nbsp&nbsp&nbsp&nbsp&nbsp&nbsp&nbsp&nbsp&nbsp&nbsp&nbsp&nbsp&nbsp&nbsp&nbsp&nbsp&nbsp&nbsp&nbsp&nbsp&nbsp&nbsp&nbsp&nbsp&nbsp&nbsp&nbsp&nbsp&nbsp&nbsp&nbsp&nbsp&nbsp&nbsp&nbsp&nbsp&nbsp&nbsp&nbsp&nbsp&nbsp&nbsp&nbsp&nbsp&nbsp&nbsp&nbsp&nbsp&nbsp&nbsp&nbsp&nbsp&nbsp&nbspNeil Hutton